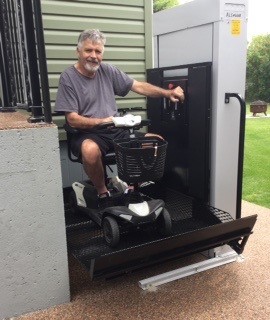 If you or someone in your home uses a wheelchair, moving from room to room presents a challenge. Access to upper and lower levels, both indoors and outdoors, is difficult without relying on some type of assistance. Residential wheelchair lifts give you the freedom and convenience to move around your home.
Simply understood, wheelchair lifts come in two basic varieties, vertical, and inclined.  Both types of lifts are ideal for transporting wheelchair users. A vertical platform lift travels vertically to a deck, porch, or other ledge, while an inclined platform lift travels along the pathway of an existing staircase. 
Let us help you pick the best options to remove barriers in your home.